These healthy apple cinnamon oatmeal muffins make an easy breakfast or grab and go snack. Packed with juicy apples, fragrant cinnamon, and wholesome oats, this muffin recipe is perfect for meal prep!
Jump to Recipe
These muffins are the perfect healthy comfort food in the fall or anytime you have some extra apples on hand. And that's usually always.
The list of ingredients may seem a bit long but there's really just two steps to mixing up these easy muffins.
Ingredients
Apples
Old fashioned oats
Buttermilk
White whole wheat flour
Salt
Baking powder and baking soda
Ground cinnamon
Brown sugar
Egg
Avocado or other oil for baking
Vanilla extract
Put #breakfast on autopilot this week with these healthier Apple Oatmeal Muffins
If it doesn't feel like fall where you are, these Apple Oatmeal Muffins will help. I promise. Once these muffins start baking, the house will smell like fall. The heartwarming aroma will give you all the fall feels.
Not into apples? Try these Pear Oatmeal Muffins instead!
Directions
To make these muffins, you'll need to prepare the dry ingredients in one large bowl. Simply whisk them together.
The most important step to keep these muffins tender and moist is soaking the oats in the milk. Once the oats are soft and well-hydrated, stir in the grated apples, eggs, oil, sugar, and vanilla. Combine the two and get ready to bake!
Switching out flours
These muffins are fine with basic all-purpose, white whole wheat, or whole wheat pastry flour. Using half oats helps add a bit more bite to the muffin along with extra fiber. So they are not light or cakey but a bit more hearty – good for breakfast with a smear of peanut butter.
Don't have buttermilk?
I know now everyone stocks buttermilk. You can easily make some at home by combining 1 tablespoon white vinegar or fresh lemon juice with enough milk to total one cup of milk. Let sit for at least 5 minutes. Substitute that for each cup of milk in the recipe.
You can also use regular milk or non-dairy milk like almond or cashew milk. Please note that the muffins may be a tiny bit drier and less tender with the nondairy milk because of the lower fat content.
Enjoy these for breakfast tomorrow. Smear a muffin with a little nut butter, peach jam, or eat it plain.
These muffins freeze well too. I like to freeze the majority of the batch on the first day to enjoy for days and weeks to come.

To reheat the oat muffins: Reheat from frozen at 350ºF for 15 minutes or more depending on desired crispiness. I like to use a toaster oven for a quick reheat while I'm getting dressed.
More healthy muffin recipe ideas
And if these have you hungry for more muffins, you'll love these Strawberry Oatmeal Breakfast Muffins in the spring, these no-flour Healthier Blueberry Blender Muffins in the summer, and my Flourless Gingerbread Muffins when it turns chilly outside. Those last two come together in the blender!
And you'll flip over these Carrot Cake Oatmeal Pancakes!
Go ahead a make a batch. Let me know what you think.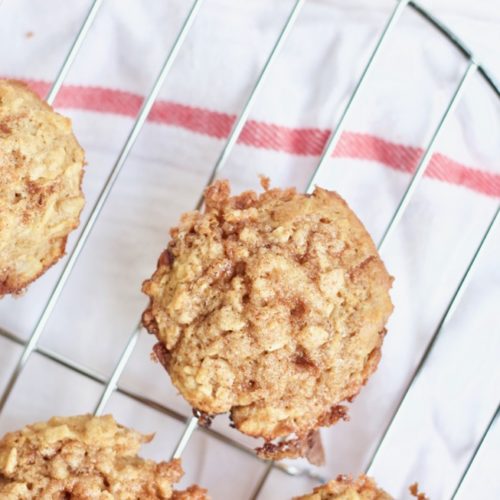 Print Recipe
Healthy-ish Apple Cinnamon Oatmeal Muffins
These healthier apple cinnamon oatmeal muffins make an easy breakfast or grab and go snack. Packed with juicy apples, fragrant cinnamon, and oats, this muffin recipe is ready in minutes!
Ingredients
1

cup

old fashioned oats

1

cup

buttermilk

1

cup

white whole wheat flour

½

teaspoon

salt

1

teaspoon

baking powder

½

teaspoon

baking soda

1

teaspoon

ground cinnamon

½

cup

brown sugar

1

egg

beaten

¼

cup

avocado or olive oil

1

teaspoon

vanilla extract

1½

cup

apples, shredded

(about 1½ medium apple)
Instructions
Preheat oven to 400°F. Lightly spray or grease a muffin tin with oil. Set aside.




In a large bowl, combine oats and buttermilk. Let sit 15 minutes.

In a second mixing bowl, whisk flour, baking soda, baking powder, salt and cinnamon.

Stir the oil, egg, brown sugar and vanilla into the soaked oat mixture. Add dry ingredients. Stir just until combined. Do not overmix. Gently fold apples into the batter.

Spoon the batter into the prepared muffin tin. Bake 12 minutes. Remove from the oven. Let the muffins cool in the pan 5 minutes. Transfer to a cooling rack.
Notes
TIP: These muffins are best served warm. They also freeze and reheat incredibly well. To enjoy after freezing, thaw at room temperature or heat frozen muffins in a 350F oven for 10-15 minutes.
NOTE: I don't recommend using paper muffin cups in this recipe. Baking directly on the muffin tin produced the best results – keeping the moisture in and creating a nice crust on the outside.
Nutrition